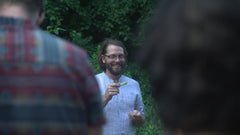 How to forage for herbs in Milwaukee like the owner of Tippecanoe Herbs & Apothecary
Kyle Denton is an herbalist. His expertise revolves around all that grows from the ground: plants, flowers, fruits and more. He owns Tippecanoe Herbs & Apothecary, a Walker's Point boutique-style store selling herbal medicines, trinkets, household items and more. Throughout the summer, Denton leads Milwaukeeans on herb walks, where he teaches them about herbs and plants to forage around the city.
Watch the video and listen to the audio story below to join Kyle Denton on an herb walk.